How To Install Nigerpress App
If you are browsing the web from your mobile device, when opening a web app most likely you will be prompted a pop-up asking if you want to add an app to the home screen.
However, if you do not see a pwa install prompt straight away, simply follow these steps to quickly install any Progressive Web App to your mobile device.
Installing Nigerpress on Android – Chrome and Firefox
Let's start with Android. While installing a PWA with Android is easy. With the vast majority of Android devices, installing a PWA is as simple as navigating to the website you want to install on Chrome or Firefox browser. Once there, tap the three-dot overflow menu in the top-right corner or bottom-right corner and then select 'Add to home screen' or 'Install.' Chrome and Firefox will prompt you to add it to your home screen. See images below for both Chrome and Firefox prompts.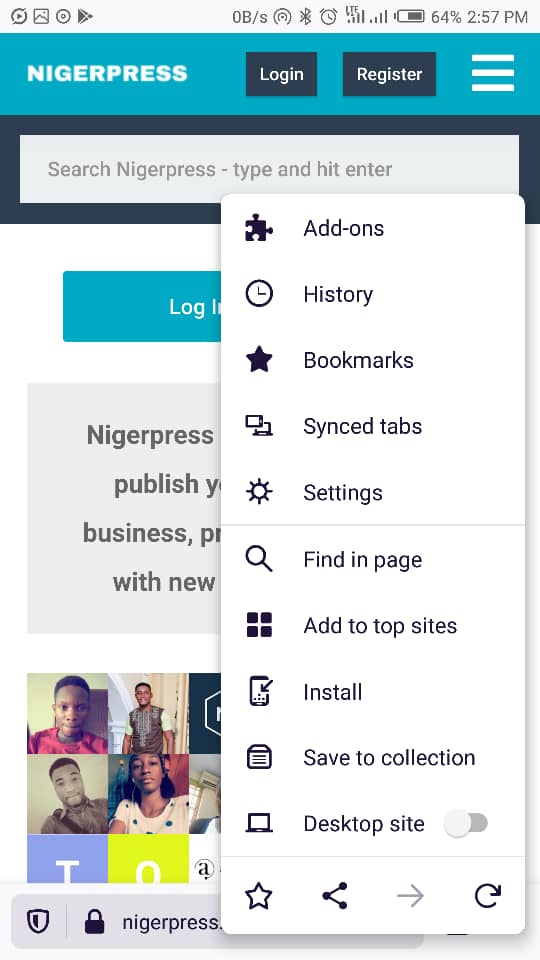 Install Nigerpress PWA on desktop
It is also possible to install a desktop PWA! Many popular browsers have already integrated the PWA Install experience to the omnibox.
To install a Progressive Web App to your desktop:
Open nigerpress.com in your preferred browser.
Click on an install button in the address bar.
Click Install.