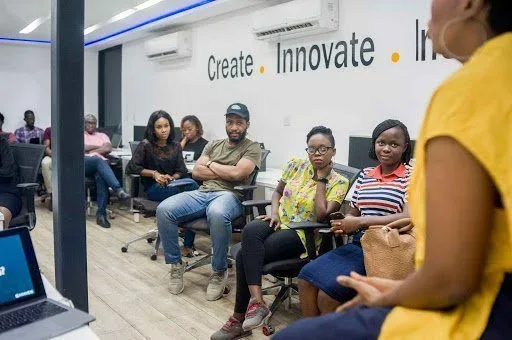 Important Notice: This post was published on April 7, 2019 and may be out of date.
On the 23rd of March, as part of the Tech Women Lagos series, Adia Sowho, Managing Director – Nigeria/VP Commercial at Mines, shared her experience as a decision maker and leader at innovative and technologically complex Nigerian businesses with an audience comprising women from different backgrounds and roles (and men too).

Pin
In the Tech Women Lagos x Mines workshop titled "Leading Complex Organizations", Sowho started by taking the audience through her career journey. She then proceeded to explain the importance of knowing what one is good at and also knowing one's leadership style.

Pin
"You have to ask yourself who you want to be as a leader. You are not successful in a complex organization without your team," Sowho said. ""One of the most important things to do in a complex organization is to know your boss." Sowho further stated. She also explained the importance of understanding organizational politics and how to wield political capital. Sowho concluded the workshop by taking questions from attendees.

Pin
You can access the workshop presentation here. We will also be sharing the video from the workshop soon, so look out for it. 
The post Adia Sowho shares her experience about leading complex organizations appeared first on TechCabal.
Disclaimer: Every member is solely responsible for anything that he/she posts or uploads on Nigerpress. Opinions and statements expressed by our users and third parties are theirs alone and not of Nigerpress. Content created by third parties is the sole responsibility of the third parties and its accuracy and completeness are not endorsed or guaranteed by Nigerpress.
No sponsored posts yet.