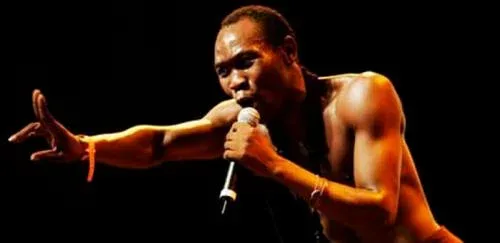 Important Notice: This post was published on January 11, 2019 and may be out of date.
Seun Anikulapo Kuti, who is the youngest son of legendary Afrobeat pioneer, Fela, earlier today asked people to stop bastardizing his father's legacy. The 36 years old singer who currently leads his father's former Egypt 80 band made this known during his visit to the popular early morning show "your view" on TVC.
Seun who is an atheist participated actively in the Occupy Nigeria protests against the fuel subsidy removal policy of former President Goodluck Jonathan in January 2012.
In his own word:
"I will not let people bastardize his legacy. The part of Fela that was escentric, artistes want to use it as an excuse to get away with their irresponsibilities. Everybody wants to smoke igbo, chase plenty girls. Don't minimize my father to such a basis level."
Disclaimer: Every member is solely responsible for anything that he/she posts or uploads on Nigerpress. Opinions and statements expressed by our users and third parties are theirs alone and not of Nigerpress. Content created by third parties is the sole responsibility of the third parties and its accuracy and completeness are not endorsed or guaranteed by Nigerpress.
No sponsored posts yet.