Important Notice: This post was published on August 4, 2019 and may be out of date.
Tekno says he loves to shoot his videos in Lagos and he did not intend to offend anyone with the viral video of him and stripper dancing in public.
Nigerian Singer Tekno has apologized to the public over the viral video that showed that showed half naked ladies dancing in a truck in Lagos. His apology below…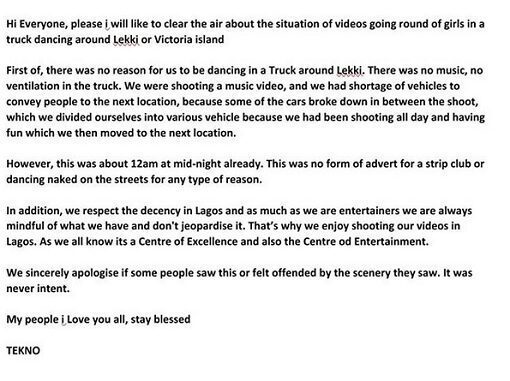 Disclaimer: Every member is solely responsible for anything that he/she posts or uploads on Nigerpress. Opinions and statements expressed by our users and third parties are theirs alone and not of Nigerpress. Content created by third parties is the sole responsibility of the third parties and its accuracy and completeness are not endorsed or guaranteed by Nigerpress.