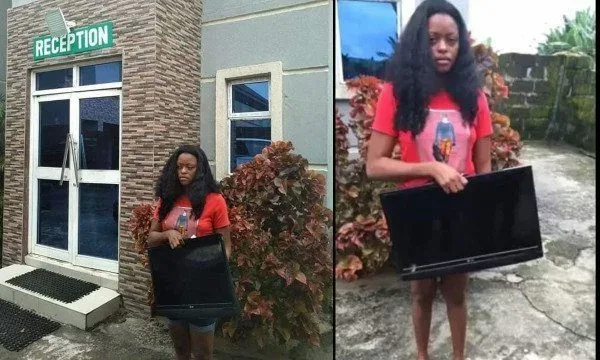 Important Notice: This post was published on August 14, 2019 and may be out of date.
A lady has been apprehended and paraded after stealing the Plasma TV belonging to Kevleyn Hotel in Delta State.
The lady identified as Laurenta, conspired with her boyfriend to commit the said act after lodging in the hotel for one week. The receptionist's guard was let down after the lady claimed her boyfriend was retaining the hotel room after being spotted leaving with a "Ghana Must Go Bag" which had the TV inside. It was also learnt that her boyfriend who stole the hotel's towel, umbrella and key left 3 hours later with claim of buying something.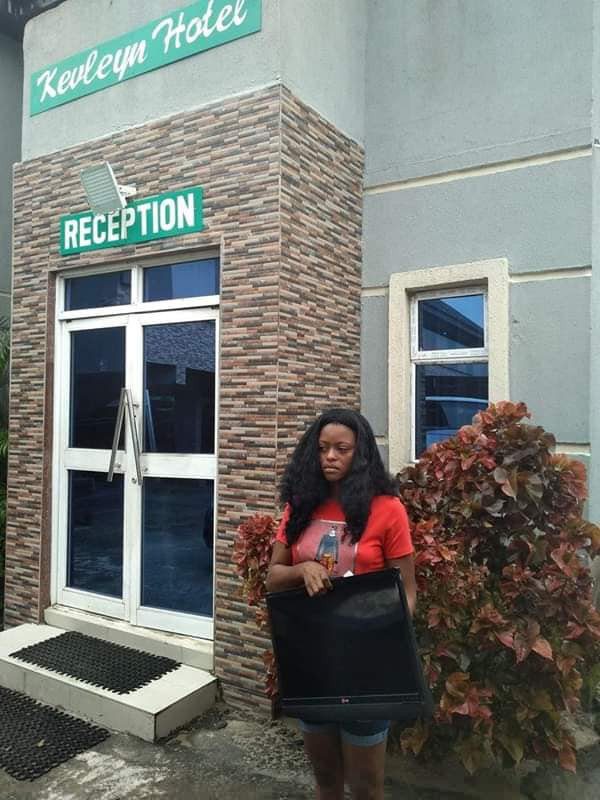 Upon being traced to her sister's house, the hotel's management were told that Laurenta was subjected to mob action earlier after stealing N800k from a guy who slept with with. The matter was taken to court and she was almost jailed with her boyfriend. Laurenta however confessed to the crime when dragged to the hotel and she reportedly said she used the TV to get a loan of N5k. The TV has been retrieved from the men who loaned her the money.
Disclaimer: Every member is solely responsible for anything that he/she posts or uploads on Nigerpress. Opinions and statements expressed by our users and third parties are theirs alone and not of Nigerpress. Content created by third parties is the sole responsibility of the third parties and its accuracy and completeness are not endorsed or guaranteed by Nigerpress.
No sponsored posts yet.